Me and my camera at comic con, my geek out, my london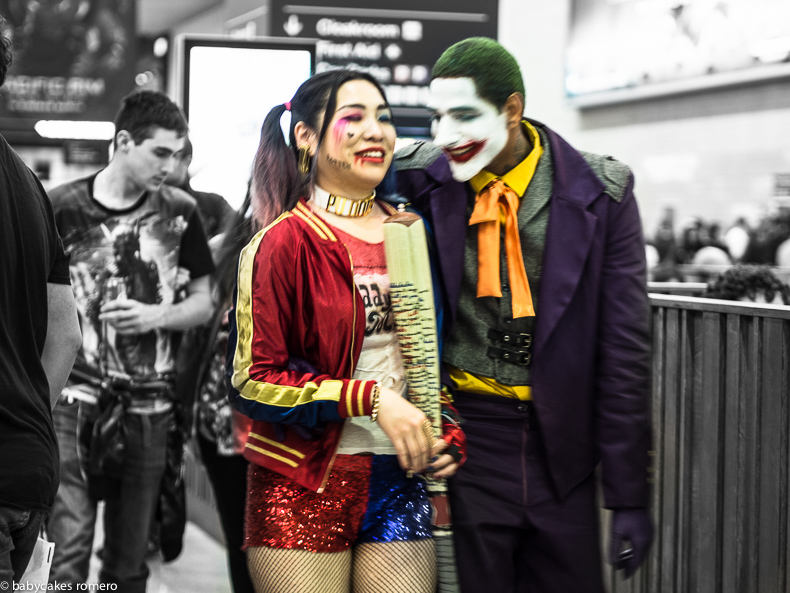 To see the full Comic Con gallery please click here
When I was a kid I lived and breathed marvel comics, 2000 AD and batman. And basically wanted to be a superhero. And not much has changed except that now there are tons of other people who also feel the same way and now congregate en masse at events like comic con. Superheroes have become the biggest genre on the planet and it does not seem to be abating in any way. And yet, even though it is firmly a part of the mainstream it still attracts those who maybe once felt like they are on the periphery…oddballs, obsessives, loners. freaks, geeks, nerds and fantasists but it turns out so are most people (and I would certainly include myself in most of those groups) so put all these 'weirdos' together and they become the norms. And the norms become the weirdos.
Comic Con is a sensory overload of an experience of the highest magnitude. You literally can't look anywhere without seeing something amazing. Everyone makes a serious amount of effort with their costumes and whether they are at the DIY 'sweded' end or the top of the range authentic they all look brilliant. So much inventiveness, time, energy and money seems to go into everyone's creations. As a photographer it is a visual paradise of opportunity and I did everything I could to capture as much as possible. And yet, I wasn't here to just take pictures, I was here for the same reason they were. To be amongst my own kind and spend the day in Toontown. But for me, its difficult to look around and not question what is it that makes everyone want to do this.
The unspoken rule at comic con is that you can take pictures of people as long as you ask but if you ask they then pose as the character and any semblance of their actual self disappears. Mainly because they want it to. This is their time out away from themselves. This is their fantasy. To be this all powerful dynamic capable colourful character. Who doesn't want that? But much more interesting to me is to see a glimpse of the real self beneath the facade. And so I mostly ignored the unspoken rule and did what I normally do which is to try to capture that moment before the guard goes up. My goal was to reveal the person beneath the attire as well as the character they were pretending to be. I was interested in revealing the slightly hidden aspects of this experience.
As the day went on and people started to get tired and hot (it was boiling in the excel centre) they started to shed the mask, literally in a lot of cases. And by the end when they were tired and ready to go you could see how the experience had been for them. You could see the shortfall between what they wanted it or needed it to be and the reality. You could feel a sense of dejection and disappointment as maybe all that effort and work had maybe not delivered what they had ultimately wanted…to leave reality and their real selves completely and to become the hero of their fantasies and for people to treat them as such.
When I started to go through the photographs I had taken there I really wanted to show both sides of this experience by highlighting the colourful nature of their cosplay but also to show a sense of the dreary day to day reality they were trying to get away from. This is why I desaturated the background into black and white and made them a technicolour spotlight in their own fantasy. This also gave the shots a comic book feel in the process which seemed appropriate. I also liked the contrast of revealing their inner selves visible from within these created constructs which were ultimately designed to hide exactly that.
Although, having said all of that, this is just the angle I have focussed on, the aspect that caught my attention but most of the people attending the event  clearly were having a hugely positive and enjoyable experience. You can dress up as whatever you want and no-one will judge you. By masquerading as someone else you can maybe finally be yourself. And then buy a shitload of cool stuff from your favourite whatever.
One of my favourite things was seeing all these characters from comics, films, manga and video games be recreated perfectly and then seeing them wander around with plastic bags of merch, drinking coffee, eating chips, being on their phones and any other run of the mill day to day actions that you would never see superheroes do. That never gets old for me. I also loved seeing couples dressed up as matching characters from the same world as into it as each other and clearly loving being together in Nerddom and having someone they could share this experience with. Geek love is a beautiful thing.
We live in an era where dressing up seems to becoming bigger and bigger and as fantasy now rules both tv and film it is very visible to see that people want to escape reality. And as the real world appears to be getting grimmer and grimmer there feels more and more of a need to get away from it whenever possible. But, one must ask the question, maybe we should be attempting to improve the real world rather than create an alternate fantasy one in order to deal with it? Just sayin…