Me and my camera in my home town, my capital city, my london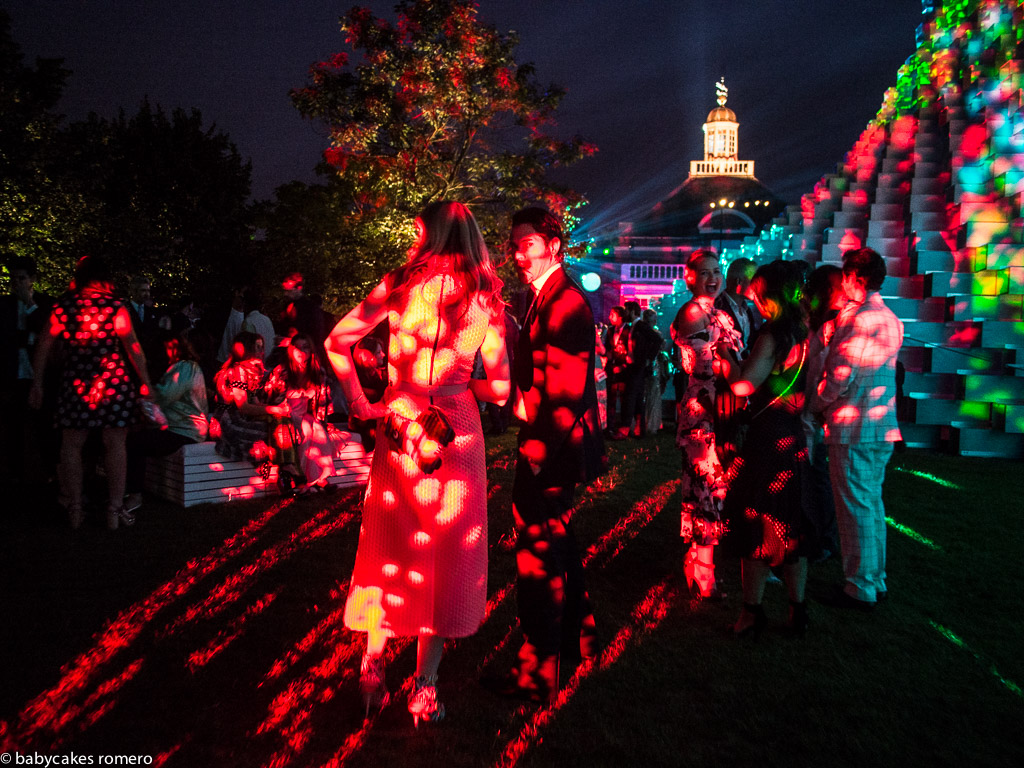 To see the full gallery please click here
As posh doos go, The Serpentine pavilion Summer Party its pretty damn posh. A listers, celebs, models, billionaires, all present and correct. The crowd are definitely the "Haves". This party came soon after the Brexit vote, which in many ways was an angry protest vote from the "Have nots" to this lot. They wanted to make then suffer like they had but looking around this party you could tell that the top echelons of society weren't even going to break a sweat. They are just going to carry on as normal and will clearly not be affected by the upcoming downturn just as they weren't really affected by the last economic upheaval.  Austerity is just not in their dictionary.
The guests at this party are the international jet set, with a huge European demographic, so I did wonder whether now  London would now  lose its appeal as the hub of the global rich and they might possibly move on to pastures new? Based on this bash it didn't seem like they'd be going anywhere but if this city's focus did move away from satisfying the needs of the elite and became more available and affordable to the 99% that would not be a terrible thing.
I have covered this party for a few years and I always feel like a spy on the inside. All the other photos being taken here are  posed shots for paps or selfies. There doesn't appear to be anyone else documenting this from an anthropological point of view. Am I there to expose the glitz and the indulgence, incongruous & slightly grotesque in these austere times? I guess. Yes. Do I hate these people? No. Not at all. They are not the cause for the inequality in society. They are a product of it. They also put on rather splendid affairs yups? Lashings of champagne, super delish canapés dah-ling and they wear such fabulous outfits yups yups…
It is our government's duty to address the imbalance and create policies that will invest in the rest, not just cater to the few. Trickle down economics is very much like the war on drugs. It doesn't work. This needs to be acknowledged and we must set ourselves on a  different path. Towards fairness. Towards opportunities for all. And countrywide. Not just in London. We must listen to the grievances that drove the vote to Leave. We cannot just brush them under the carpet again and hope everything will return to normal. It won't.
In the meantime I am going to carry on hob-nobbing with this lot, soooo clearly the people to be with when it all kicks off. As a wise man once said, shit don't stick to glitz. Pour me another champs sweetie…
P.s Oh, I almost forgot, just as most of the guests did, the point of this bash is to celebrate the construction of the new Serpentine Pavillion, which this year is designed by The Bjarke Ingels Group (BIG), (dodgy name, sounds like an investment bank, how appropriate right?) but it is quite beautiful and every way you look at it it looks like a different structure, well worth a visit if you heading to Hyde Park.
Leave a Reply