Me and my camera in my home town, my capital city, my london
Only heard the term 'hype beasts' relatively recently but had been observing them for a while without realising they had a name. The regular queues outside the Supreme store in Soho with ever so patient customers, already decked out top to toe in Supreme gear, waiting to get their hands on yet more insanely expensive limited edition products have become a familiar sight. The gear costs a fortune and many young people seem very happy and able to pay for it although they must be minted to do so when you see what they are charging.
I have recently had some of my work incorporated into the Youth Club archive which focuses on youth sub-culture and this is definitely a modern sub-culture. It does, however, operate slightly differently to previous youth fashion movements. Its modernity is highlighted in its driving force as its largely created by  brands promoting their wears rather than by a fashion that came up from the streets. It is also very much driven by money and status as you have to be pretty loaded to be able to drop several hundred pound on a top and be ok with that. This means it is largely for the rich although it is very much branded as urban street fashion, although as you have to be pretty wealthy to live in a city centre these days maybe that's quite appropriate.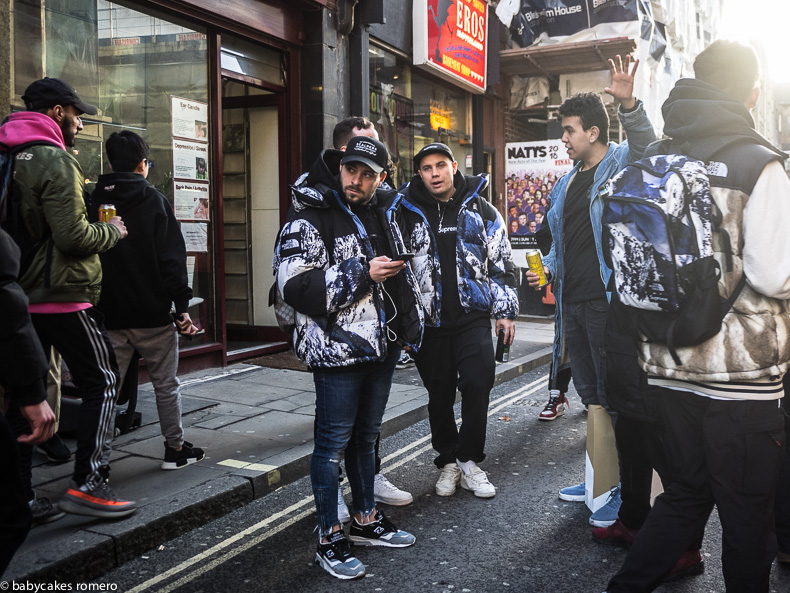 It would be wrong to claim that this is not a defined youth culture because it most definitely is but its hard to not see that it is a very calculated and controlled one  and one that champions social hierarchy, rewarding those who can afford it to display their wealth to everyone who can't. Youth sub-cultures of the past have tended to focus on the opposite, a reaction to the status quo of capitalism and conformity, a rejection of ideals and norms that have been pushed on them by an older established generation. And yet, the previous youth fashion it most resembles is the 'casuals' of the 80s who got themselves decked out in Fila, Sergio Taschini, Pierre Cardin, Gabicci etc. and defined themselves by these brands. In some ways it is no different to that sub-culture at all, just a modern update with new names and new logos but the principle remains the same.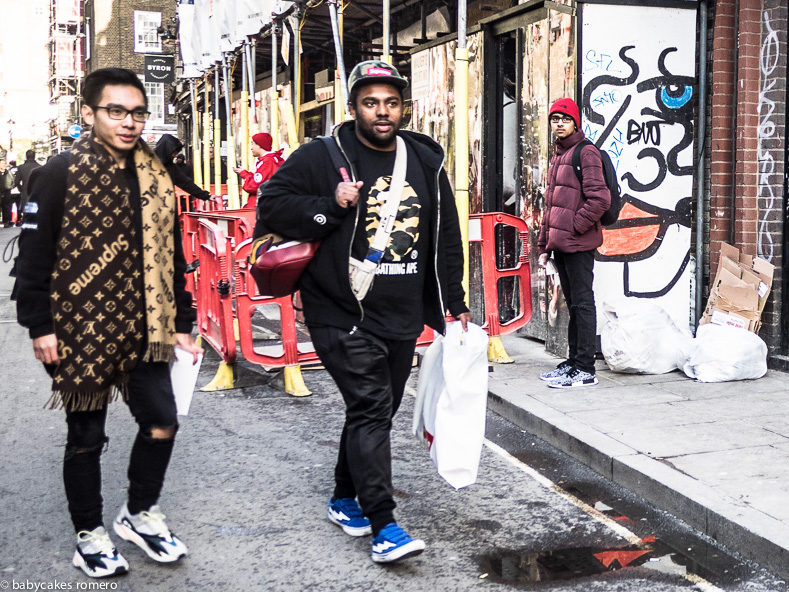 The term hype beasts does feel somewhat self-aware, that they know they have bought the hype but don't care. I had previously used the term 'brand slaves' when discussing this lot as felt it summed up those who feel the only way they can have an identity and respect amongst their peers is to be adorned with logos that reveal they are able to buy the most expensive gear available. It is difficult not to see that feelings of insecurity and lack of self-worth could be a factor in those who choose to hide behind brands. But, regardless of my own projected analysis, which is very much coming from someone from a different gen, these teens and young adults who are buying into it wholesale seem totally into it and might just dig the shit so who are we to judge?
For me, its more to do with its exclusive nature that is the problem and the fact it feels like the brands are maybe taking advantage of impressionable youngsters who just want to be acknowledged and belong to something. And also so they have outfits they can wear in their feeds with pride and get the social media recognition and likes that go with it. The need to digitally display your wears in this internet dominated era must be acknowledged as a crucial factor to this movement, which again separates it from previous youth cultures.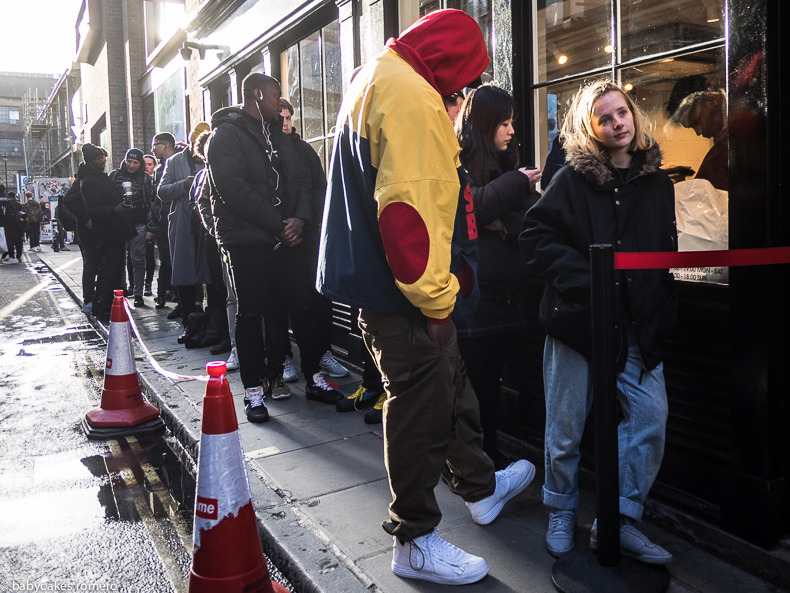 Even though people were just technically out shopping on a Thursday afternoon there was a proper buzz on the street, with Supreme shoppers loitering around way after their purchases but rather than allow them to congregate the Supreme security were actually quite pushy and a bit aggressive with everyone, herding them from one queue to another which seemed a little inappropriate considering they were about to or had just spend a ton of cash in the store. But the sun poured down onto Peter Street and seeing everyone hanging out in their newly acquired get ups made it feel like some sort of happening which I am sure was being instagrammed to fuck by everyone present. Something was going down and they all wanted to be a part of it and to let everyone else know they were where it was at.
Most youth culture events used to be music driven but now it seems they are more fashion consumer driven. When mutually trendy brands do 'collabs' (as they now call 'em) with each other people literally queue overnight to get their mitts on the exclusive range. They all camp out and it becomes a social event, although there are probably more faces staring into screens than interacting with each other. Again, this is the modern way and it ain't going away, so might as well get used to it. Although I did wonder whether they would not all be chatting to each other if they didn't have their phones with them. Maybe the tech is keeping individuals separate from being a collective. Every sub-culture movement I have been involved in always involved getting decked out in the gear, hanging out at the right spot and making friends with likemindeds about whatever you were all into. It would be a shame if that social aspect had been lost. Although they might view their social media sharing as communal interaction, albeit a digital one. Did previous youth cultures share what they looked like with the world? No. But we didn't have the ability to so maybe unfair to compare.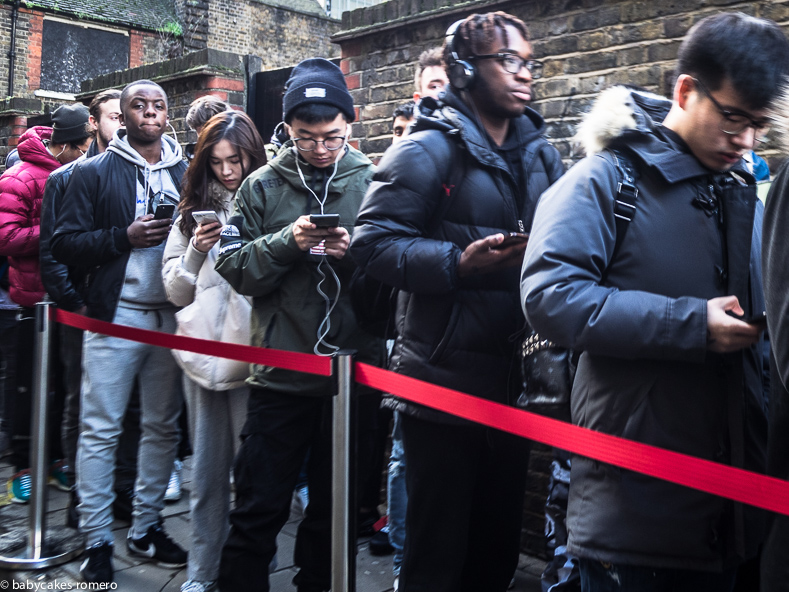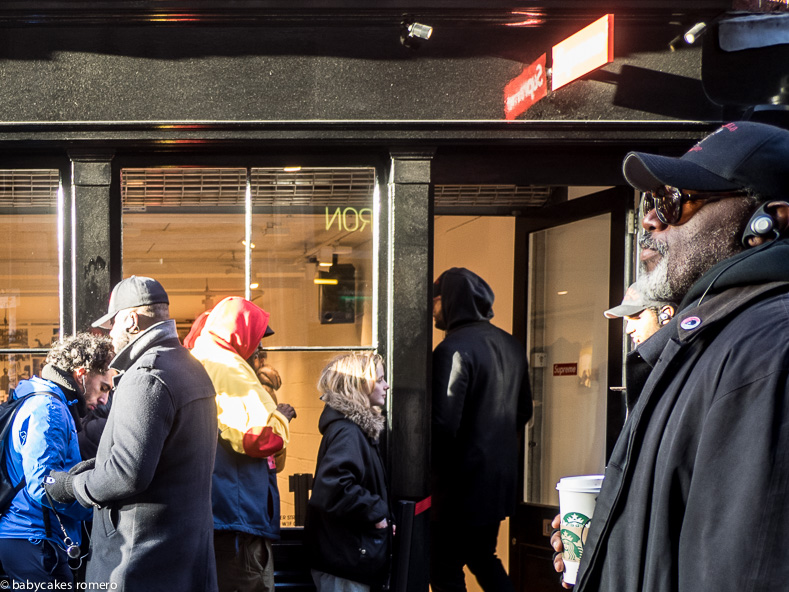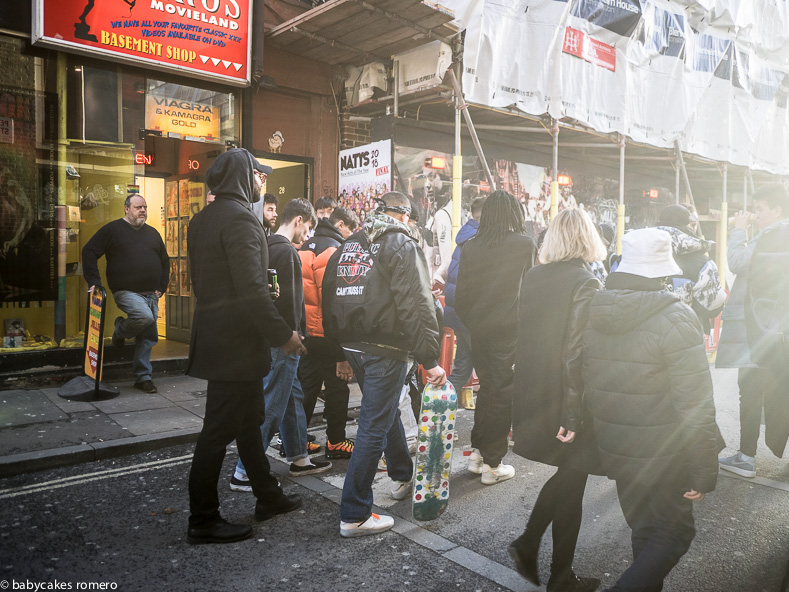 I took these pictures whilst hanging out with my teenage nephew who I was relieved felt it was as crazy as I thought it was. We went for a bite after and we were sat next to these two kids who had just been to the Supreme store and one of them had bought a small box of poppy seeds in a mini supreme box for fifty quid. Fifty quid for some seeds! It seemed utterly insane to me they would cough up that sort of money for something so inconsequential. He displayed the box with pride on the table in the hope the waitress might notice. I couldn't help but feel that Supreme are massively taking the piss. They know they have street kudos and customers willing to spend to get it and feel they probably sit around in meeting rooms, laughing their heads off, trying to come up with the  most ridiculous things they can sell at the most ridiculous prices for and see if they can get away with it. And they are definitely getting away with it. You only have to check ebay to see how much they are getting away with it as people bid stupid money for whatever super duper limited edition jacket they made half a dozen of just in order to ramp up the price. Its bizarre because they pay top dollar for one-offs to look unique but inevitably they all end up looking the same.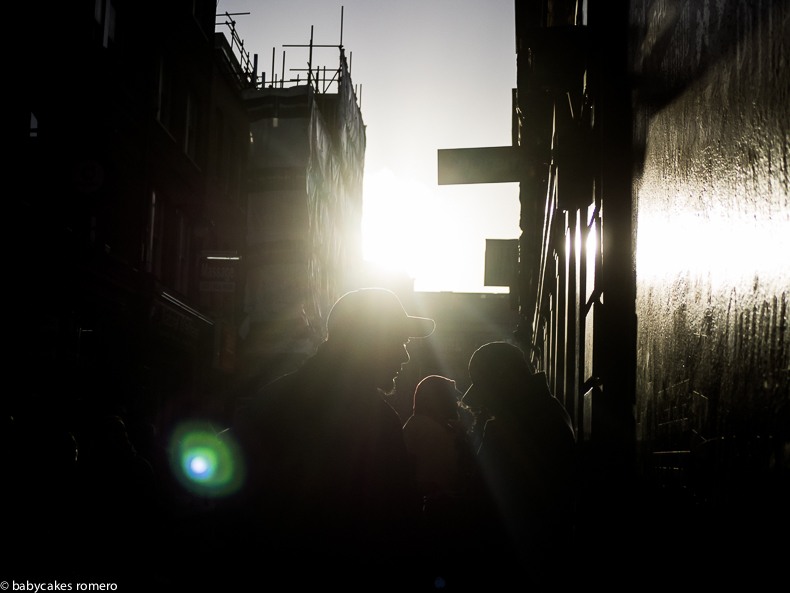 I have been photographing hype beasts queues for a while whenever I saw them but somehow the event last week somehow captured the essence of it all. And the light was beautiful which also helped. I find the whole thing quite fascinating and however warped it seems, it is definitely wrong to assume that youth movements of the past mean more than current ones and sometimes you need time to pass to see things as they really are. Were the mods, the rockers, the rude boys, the skinheads and the ravers championed by society at the time? Not at all. Did they all feel they were doing it more authentically than the previous generation? Absolutely. And so it goes on. The most important thing for me about youth culture is that it defines the generation's own identity, that it reflects the times rather than just borrow from a previous one and the Hype beasts are kind of doing that, although I am looking forward to the day when all this stuff is in TK MAX for cheap because everyone has moved onto the next thing. Every dog has its day and all that…
Leave a Reply
Tags: fashion movement, hype beasts, sub culture, supreme, youth culture